At Beaming Books, we celebrate our LGBTQ+ authors and LGBTQ+ stories during Pride month and all year round. The following list highlights books on a wide range of topics and experiences, all of which encourage kids to be their true, authentic selves. These books serve as a reminder that regardless of how kids identify, they are loved, valued, and worthy.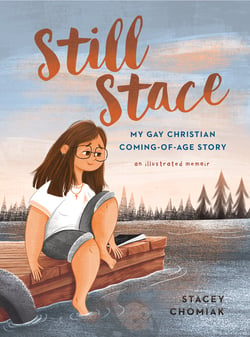 Still Stace: My Gay Christian Coming-of-Age Story
Is it possible to be gay and Christian?
Stacey loves being a Christian. Her best friends are also her church friends. Her favorite place on earth is Bible camp every summer. And she talks to God like they are old friends.
But one summer, she meets a girl who turns everything upside down. Is this feeling she has for her more than just friendship? Could it be a crush? Filled with dread, Stacey embarks on a journey to discover what it means to be gay, whether it is possible to change, and how to reconcile her identity with her faith. Will it even be possible?
In this young-adult illustrated memoir, Stacey Chomiak tells the true story of her teenage and young-adult years: of heartbreak, family conflict, trying to become ex-gay, wrestling with her faith, and finding love. Uncovering happiness and joy while surrounded by the loneliness of a world that actively excludes her seems insurmountable. Until she learns to love her full self. Then the possibility of being both gay and Christian seems not just possible, but the best answer of all.
Click here to read an excerpt from Still Stace.
Age range: 13–18 years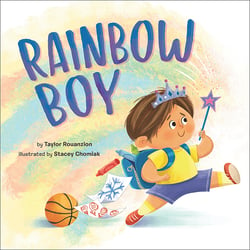 We all have asked a child to tell us their favorite color. In Rainbow Boy, one little boy attempts to answer this all-time favorite question. But with so many wonderful colors to choose from, he doesn't know how. He loves his pink sparkly tutu, bright red roses, soft yellow baby doll pajamas, and big, orange basketball. How will he ever pick? This charming picture book reminds us that color doesn't have a gender, and encourages us all to express ourselves with the colors and items that feel true to our inner selves.
Author Taylor Rouanzion shared with us the inspiration behind Rainbow Boy. Read the interview here.
Age range: 3–8 years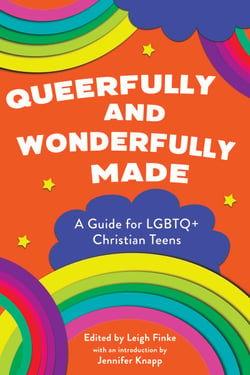 Queerfully and Wonderfully Made: A Guide for LGBTQ+ Christian Teens
Whether you're queer or questioning, understanding sexuality and gender identity can be confusing. And if you're a Christian, questions of identity can be even scarier. Is there something wrong with you? Will your friends accept you? When should you tell your family? What about church?
Queerfully and Wonderfully Made has answers to all these questions and more. You'll get insight and support from an amazing group of LGBTQ+ professionals, as well as testimonies from young adult queer Christians who've recently been exactly where you are. You'll walk away with a lot of answers, prepared with tools to help. But most importantly, you'll hear the good news: God loves you exactly as you are.
This is a companion book to Welcoming and Affirming: A Guide to Supporting and Working with LGBTQ+ Christian Youth, published by Broadleaf Books, our sister imprint.
Age range: 13–18 years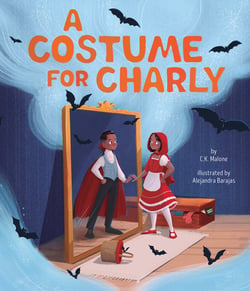 Halloween is always tricky for Charly, and this year they are determined to find a costume that showcases both the feminine and masculine halves of their identity. Digging through their costume box, they explore many fun costumes. Some are masc. Some are femme. Some are neither. But all are lacking. As trick-or-treating looms, they must think outside the box to find the perfect costume—something that will allow them to present as one hundred percent Charly.

Note: This book will publish on September 6, 2022.
Age range: 5–8 years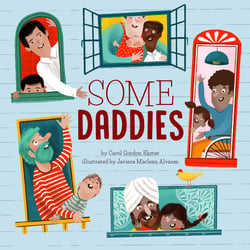 Every daddy is different—and that makes them even more special! And some families have two daddies to love and cherish.
Some Daddies is a rollicking showcase of daddies that celebrates the incredible diversity of modern fathers. The inclusive cast of characters—including a two-dad family, a single dad, and a stay-at-home dad—highlights the bond between daddy and child as they play, learn, comfort, and laugh their way through everyday life. This open-hearted ode to fatherhood will give readers new appreciation for how their own fathers and father-figures shine in their own unique ways.
Age range: 5–8 years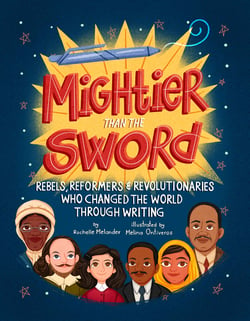 Mightier Than the Sword: Rebels, Reformers, and Revolutionaries Who Changed the World Through Writing
Regardless of our gender or sexuality, we all have the power to change the world with our words.
Throughout history, people have picked up their pens and wielded their words—transforming their lives, their communities, and beyond. Now it's your turn! Mightier Than the Sword connects over forty inspiring biographies with life-changing writing activities and tips, showing readers just how much their own words can make a difference. These richly illustrated stories of inspiring speechmakers, scientists, explorers, authors, poets, activists, and even other kids and young adults will engage and encourage young people to pay attention to their world, to honor their own ideas and dreams, and to embrace the transformative power of words to bring good to the world.
Download the free Mightier Than the Sword Activity Pack for kids to continue learning about people who have changed the world through writing!
Age range: 9–13 years