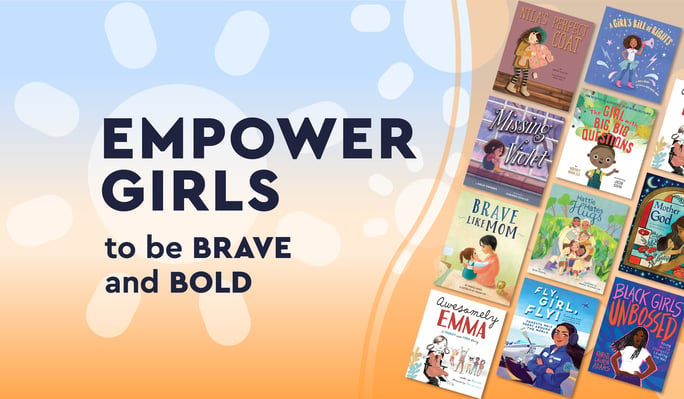 Throughout history, women and girls have changed the world. And those of us who have kids or work with kids every day know just how important it is to inspire these young hearts to dream big, stand up for themselves and others, and have the confidence to face life with courage. Books have the power to help us do that.
In honor of Women's History Month, here are thirteen girl power picture books to inspire girls to be brave and bold.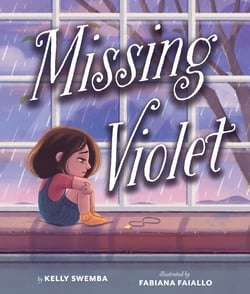 Life is full of sunshine for inseparable friends Violet and Mia. Until one day, Violet leaves school sick and doesn't get better. Without her best friend, Mia slips into a gloomy existence. As she moves through the stages of grief like the colors of a rainbow, Mia wonders if she will ever feel like herself again. When Mia reaches out to her classmates, she remembers what she loved most about Violet. Missing Violet is a sensitive and poignant story about the loss of a friend and experiencing the different stages of grief.
Age range: 5–8 years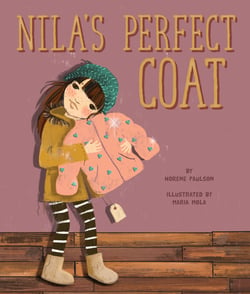 Nila and her mom love shopping at the thrift store. But when Nila finds the most perfect, shiny, puffy coat, Mom says no: Nila's winter coat still fits her just fine. With a lot of determination and some birthday money from Dad, Nila sets out to prove the coat really is perfect—but along the way, learns maybe it's perfect for someone else. Someone who needs both a coat and a friend. Nila's Perfect Coat is an engaging and accessible story about having enough and helping others in need.
Download the free Nila's Perfect Coat Educator's Guide to continue the fun with Nila and friends and to encourage kids to share warmth.
Age range: 5–8 years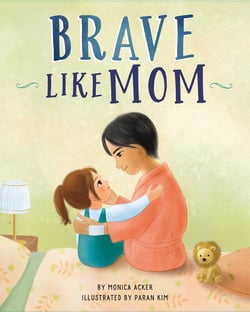 As one girl watches her mom battle illness, she sees Mom being strong, brave, and fierce on both good days and bad ones. The girl wants to be brave like Mom! As she worries about her mom's health, the girl realizes that bravery comes in many forms and that she can be brave too. Brave Like Mom is a poignant and sensitive story about a loved one living with a chronic illness, and an important lesson about how being brave doesn't mean you aren't scared.
Age range: 5–8 years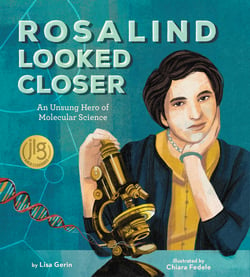 Rosalind Looked Closer: An Unsung Hero of Molecular Science
As a Jewish girl in England, Rosalind Franklin grew up against the backdrop of World War II. Fascinated with the natural world, Rosalind developed a passion for science during a time when few women were recognized for their contributions to the field.
As a scientist, she captured an image of DNA that was unlike any other image that had been seen before. She saw an image of a helix made up of repeating strands of DNA. This was what the DNA double helix looked like up close—one of the most important findings of the twentieth century. An unsung hero of molecular science, Rosalind persisted even when men took credit for her work, going on to research the molecular shape of viruses. Rosalind Looked Closer is sure to inspire educators and parents interested in encouraging curiosity and a passion for STEM in girls and boys.
Age range: 5–8 years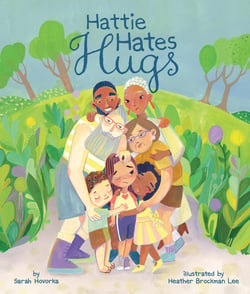 While at a family reunion, Hattie just wants to play horseshoes, but her boisterous relatives keep hugging her. Great-Grandma is the only relative who understands how Hattie feels. With Great-Grandma's help, Hattie learns to use simple but clear body language with verbal reinforcement to set boundaries around her personal space and to assert her right to consent to physical touch. Hattie Hates Hugs will teach huggers and non-huggers alike the importance of respecting people's personal boundaries and provides an example of how to advocate for yourself with confidence.
Age range: 3–8 years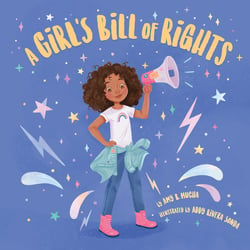 In a world where little girls must learn to stand tall, A Girl's Bill of Rights boldly declares the rights of every woman and girl: power, confidence, freedom, and consent. Author Amy B. Mucha and illustrator Addy Rivera Sonda present a diverse cast of characters standing up for themselves and proudly celebrating the joy and power of being a girl.
Age range: 3–8 years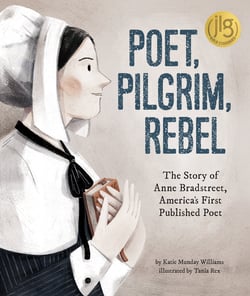 Poet, Pilgrim, Rebel: The Story of Anne Bradstreet, America's First Published Poet
Late at night, with her children tucked into bed and her husband away on business, Anne Dudley Bradstreet composed poems by candlelight. Puritan women in the 1600s weren't allowed to be writers. But when the world learned about Anne's poetry, even she was astonished by what happened next. This charmingly illustrated picture book tells the inspiring story of how a Puritan woman overcame the obstacles facing women of her era to become one of the most famous poets in history. A gifted writer of deep faith, Anne Bradstreet blazed a trail for the rights of women to study, write, and achieve.
Download the free Poet, Pilgrim, Rebel Educator's Guide for kids to continue learning about Anne Bradstreet and her writing.
Age range: 5–8 years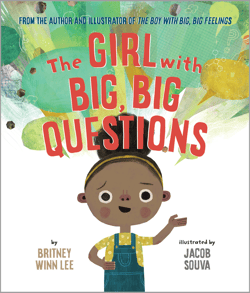 The Girl with Big, Big Questions
Britney Winn Lee
"Why can't people live on the moon?"
"Can I be president when I grow up?"
"What makes a person good?"
These are just some of the questions that bubble forth from one little girl with twinkling eyes and a curious mind. When the girl finds that her big questions make some people uncomfortable, she stops asking. But then she learns that her questions can solve problems and that asking questions is how we learn and grow. The Girl with Big, Big Questions celebrates the spirit of curiosity and the joy of learning. A lively picture book about a persistent girl and her quest for knowledge.
Age range: 5–8 years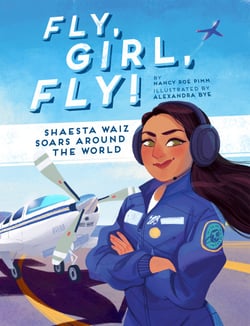 Fly, Girl, Fly! Shaesta Waiz Soars around the World
Shaesta Waiz, a refugee from Afghanistan, dreamed of doing great things. But she had some obstacles to overcome first: leave a refugee camp, make a new life in America, be the first in her family to go to college, and overcome her fear of flying. At the age of thirty, Shaesta was the youngest woman and the first from Afghanistan to circumnavigate the globe by herself in a single-engine aircraft. Fly, Girl, Fly! tells her incredible story and encourages all kids, especially young girls, to pursue their dreams and follow their heart.
Author Nancy Roe Pimm shared with us her tips for inspiring kids to believe in their dreams. Read it now.
Age range: 3–8 years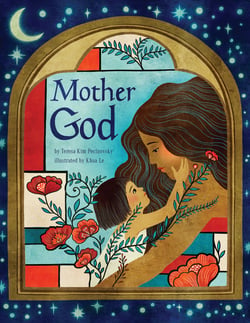 Teresa Kim Pecinovsky
Many of us know God the Father, but did you know that God is our Mother too? Mother God introduces a dozen images of God inspired by feminine descriptions from Scripture. God is a creative seamstress, generous baker, fierce mother bear, protective mother hen, strong woman in labor, nurturing nursing mother, wise grandmother, and comforting singer of lullabies. When we open our eyes to the divine feminine, we are all welcomed into a fuller, more diverse understanding of what it means to be made in the image of God.
Use the Mother God Scripture Guide and coloring pages alongside the book to more fully remind kids that God's love as a mother knows no bounds.
Age range: 3–8 years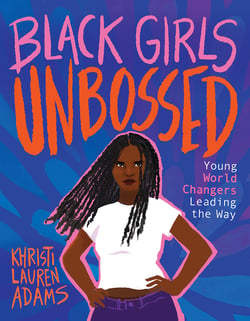 Black Girls Unbossed: Young World Changers Leading the Way
Young Black leaders have always been at the forefront of the fight for justice, freedom, and equity. And Black girls today are stepping up and leading in bold, creative ways. In Black Girls Unbossed, eight young Black women are profiled, including the founder of a child literacy nonprofit, political activists, and a school shooting survivor who launched a political action committee to prevent gun violence. These are the young Black women we will be reading about and studying decades from now. Like the young women who came before them, Black girls today are saying "enough is enough" and building a better world.
Continue the conversation with the Black Girls Unbossed Discussion Guide—perfect for book clubs, church groups, or individual study.
Age range: 8–12 years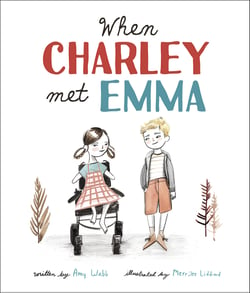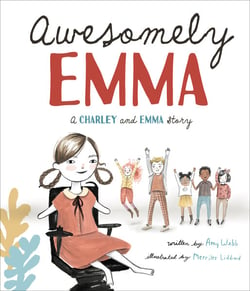 Different is just different, and different is great!
When Charley goes to the playground and sees Emma, a girl with limb differences who gets around in a wheelchair, he doesn't know how to react at first. When Charley Met Emma will help kids think about disability, kindness, and how to behave when they meet someone who is different from them.
In the follow-up picture book, Awesomely Emma, Emma has to call upon her sense of inner awesome to stand up for herself after facing accessibility problems on her class trip. Along the way, she teaches everyone a lesson about the transformative power of self-advocacy.
Age range: 3–8 years
Click here to view all books from Beaming Books.
Searching for Women's History Month reads for adults? Click here to explore recommendations from our sister imprint, Broadleaf Books.