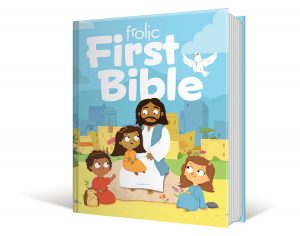 Read these and other Bible stories again and again so they become a familiar part of your little one's life.
Creation: Go outside and read the creation story from Genesis 1. Look for 5 things that God made.
Abraham and Sarah: Go back outside after dark to look up at stars and remember the story of God's promises in Genesis 12.
Baby Moses: "I see a baby in the Bible!" thinks your little one when pointing to baby Moses in the Exodus story.
Hannah and Samuel: Kids love to hear their names called and will enjoy that part of this story from 1 Samuel.
Daniel: Gather the stuffed animals to listen to this faith adventure from Daniel 6.
Jesus Is Born: The nativity story from the beginning of Luke 2 wraps around us like a warm blanket.
Young Jesus in the Temple: This story from the end of Luke 2 connects us to places of worship where we know our Father will be.
Jesus Calls Disciples: Pretend to fish while you read this story from Luke 5. Tell your toddler what you know about the twelve disciples.
Jesus Feeds 5,000: Enjoy this story from John 6 while snacking on fish crackers.
Jesus Rises: Bring this story to life in the springtime with fragrant flowers from the store or your garden.
What story is your child's favorite? What story is your favorite?
The Frolic First Bible is a great Bible for sharing these beloved stories with your toddler. Learn more about it here.
Originally Published 2/23/2017