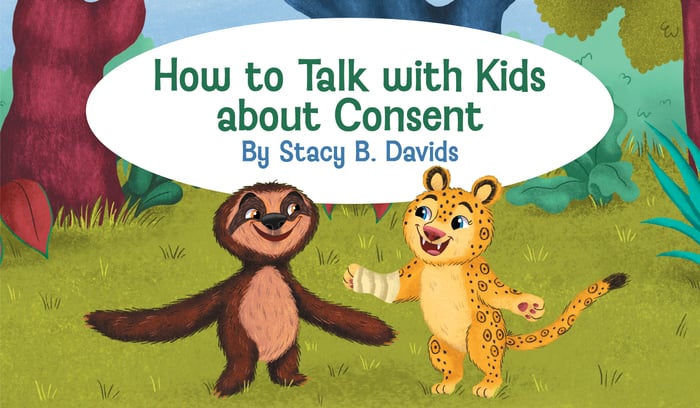 Consent is an important topic to discuss with children, but many adults find it difficult to begin this conversation. Stacy B. Davids offers some guidance on how to approach this topic, based on her picture book Simon the Hugger.
Guided Discussion
In Simon the Hugger, Simon the sloth wanted to hug everyone. Some people think it's friendly to hug everyone. Others only want to hug people they know well. And some don't like any hugs.
Elsa the jaguar didn't want a hug from Simon, but later, she did want a hug from him. Also, even Simon changed his mind about hugging his friend Ricky the porcupine. It's perfectly fine to change your mind about wanting hugs or being touched.
Elsa, Trixy the owl, and Bingo the baby tamarin all refused Simon's hugs. You never have to let people hug or kiss you, even if they're friends or relatives.
Bingo cried when Simon tried to hug him. Some people feel nervous or scared when they're hugged. Be proud of yourself for saying "no" if you feel uncomfortable or unsafe.
Simon asked Elsa, "Is it okay if I hug you?" If you're not sure how someone feels about being hugged, it's always a good idea to ask permission.
Questions and Suggested Responses
If someone tries to touch you and you don't want to be touched, what would you say to that person?
Response: "Yes, great answer! You can say, 'Stop' or 'No' or 'Go away.'"
If you touch someone and that person doesn't like it, what would you say?
Response: "Yes, that's correct! You can say, 'I'm sorry' or 'I understand.'"
If you want to hug someone and aren't sure if that person wants to hug you, what would you say?
Response: "Excellent answer! You can ask, 'May I hug you?' or say, 'I would like to hug you. Is that okay?'"
Do you have any questions about anything we talked about?
Response: Answer the child's question(s) in a supportive, nonjudgmental manner. Be aware that this discussion may bring up unexpected disclosures from the child. Contact outside resources, if needed, like a therapist or an organization such as RAINN at www.rainn.org.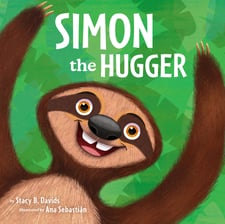 Click here to learn more about Stacy B. Davids's Simon the Hugger.