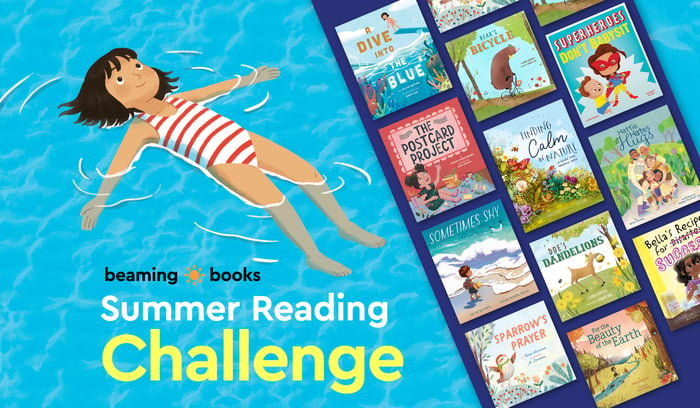 There's not much better than stretching out in a hammock or curling up on a lawn chair on a hot, sunny day with a glass of lemonade and a book. Summer vacation is the perfect time to encourage kids to explore new stories and have fun while reading. Not only will kids who spend time reading during the summer go back to school in the fall with their reading skills improved, but they will form lifelong memories and make powerful connections with books.
Since summer is right around the corner, we created a summer reading bingo board to encourage kids to read a wide variety of books—and have fun doing it. All activities can be adapted to a child's reading level. Click here to download it now!
Looking for some new stories perfect for summer? Scroll to see some of our top picks!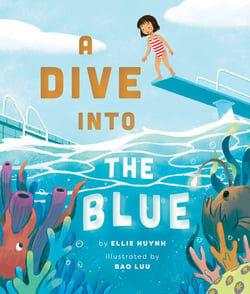 As a small girl stands at the edge of a diving board, she fears the drain at the bottom of the pool will swallow her up. Determined to learn how to dive, she musters up her courage by imagining other possibilities of what she might find under the surface, like mermaid mazes and lantern fish. Through lyrical text and enchanting illustrations, A Dive into the Blue explores a child's imagination as she learns to overcome her fears. Believing in herself, and not the shadows in the water, might be just what she needs to take the leap.
Age range: 3–8 years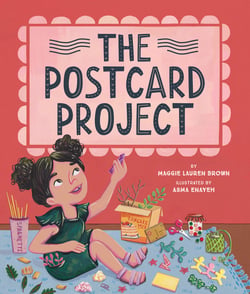 Lola loves summer visits at Gram's seaside home. But when a wave of homesickness hits and ordinary phone calls don't help, Lola and Gram craft their own homemade postcards to send their love from the coast. The Postcard Project is an intergenerational story that shows readers how postcard materials hide everywhere—from cereal boxes to garden weeds—and includes an easy DIY project (click here to download now!) sure to spread kindness right off the page.
Age range: 5–8 years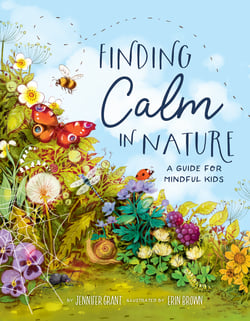 Finding Calm in Nature: A Guide for Mindful Kids
One way to feel better when we are hurting is to spend time outside. Being in nature is good for both our bodies and our minds. Finding Calm in Nature is filled with mindfulness practices such as breathing exercises, stretching, and keeping a nature notebook to equip kids with the skills necessary to navigate their feelings as they spend time outdoors. Author Jennifer Grant's affirming, kind voice will inspire kids to see the world with fresh eyes—and discover the calm, joy, and wonder waiting just outside their door.
Age range: 9–13 years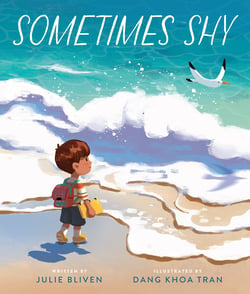 Sometimes the inanimate objects in the world around us can be shy too. In Sometimes Shy, a boy notices everything around him that can be shy—a seedling slow to sprout, a marker timid to let its color out. On a seaside stroll home from school with his older brother, the boy doesn't feel shy at all. Because, like the ocean tides, sometimes we're shy, and sometimes we're like big, booming waves with a lot to say at the end of the day.
Download the free Sometimes Shy educator's guide to invite kids to consider the ways they are both shy and bold in their own lives.
Age range: 3–8 years
The lyrics of "For the Beauty of the Earth," originally written in 1864, celebrate creation, family, music, and community. This soothing picture book, now in paperback, combines the poetry of this classic hymn with beautiful, rich illustrations to tell a story that children and adults alike will cherish. The written music and lyrics can be found at the back of the book so families can sing the song together.
Age range: 3–8 years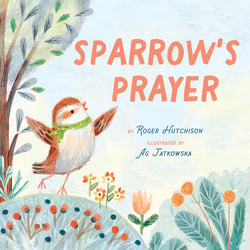 When words are hard to find, prayer blooms in unexpected ways.
Sparrow wakes each morning, ready to sing a prayer of thanksgiving. But not today. Today his words get tangled and knotted in his beak like old yarn and straw. So Sparrow decides to ask his friends Turtle, Mousie, and Buck for advice on how to pray. Each friend shows Sparrow a different way to pray without words, through generosity, art, and movement. As the day ends, Sparrow meditates on a rose aglow in the evening light and has an epiphany: Every living thing does what God created them to do. Each life is, itself, a prayer of thanksgiving. Lyrical and unique, Sparrow's Prayer is a tale about an unexpected and life-changing encounter with the holy.
Age range: 3–8 years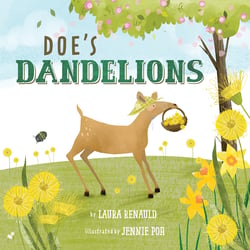 Every year, Doe grows daffodils for the Spring Petal Parade, but despite all her diligent weeding, dandelions have taken over her garden! She travels to warn her friends, but to Doe's surprise, Porcupine eats dandelion leaves, Squirrel thinks the blooms make a beautiful bouquet, and Bear cultivates a wishing garden. Perhaps dandelions are much more than weeds after all? The lovable gang from the Woodland Friends series returns in Doe's Dandelions to celebrate spring and teach Doe that all things—even dandelions—have worth.
Age range: 3–8 years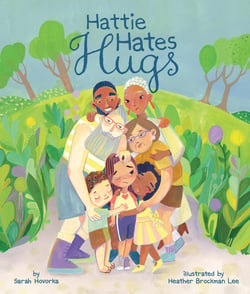 While at a family reunion, Hattie just wants to play horseshoes, but her boisterous relatives keep hugging her. Great-Grandma is the only relative who understands how Hattie feels. With Great-Grandma's help, Hattie learns to use simple but clear body language with verbal reinforcement to set boundaries around her personal space and to assert her right to consent to physical touch. Hattie Hates Hugs will teach huggers and non-huggers alike the importance of respecting people's personal boundaries and provides an example of how to advocate for yourself with confidence.
Age range: 3–8 years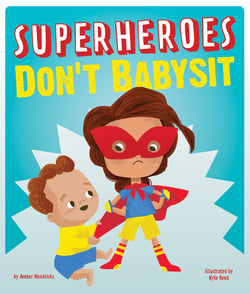 Superheroes leap buildings, chase bad guys, and save the city from the evil Emperor Zog. Superheroes DON'T babysit. Except when their dad asks them to. In an epic battle of sibling rivalry, will this superhero finally meet her match? In Superheroes Don't Babysit, author Amber Hendricks tells a story full of humor and heart, and illustrator Kyle Reed's superpowered illustrations pack a punch with their bold colors and sharp lines. This book is fun to look at and to read with siblings who consider themselves rivals or friends, or maybe something in between.
Continue the fun by transforming into a superhero with the Design Your Own Superhero Mask Activity Sheet!
Age range: 5–8 years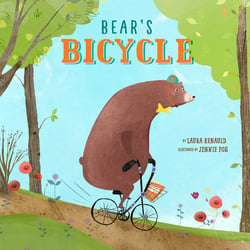 Bear, Porcupine, Doe, and Squirrel all eagerly prepare for the festival on wheels. But even after studying every book on bikes he can find, Bear still struggles to get the hang of riding. While he is on his way to the library for a new book, his friends teach Bear that everyone learns in different ways, and by practicing together, they will all master riding their bikes. In this follow-up book to Porcupine's Pie, the woodland friends inspire each other in a tale of practice, perseverance, and friendship. A final spread features tips from one of Bear's books: bike safety, caring for your bike, and fun ways to decorate it!
Age range: 3–8 years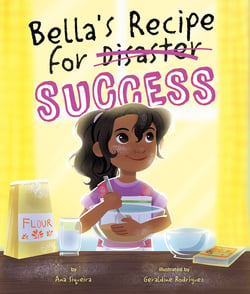 Bella wants to find out what she's good at. But she quits everything she (barely) tries because she's a disaster at it. When she decides to learn how to bake with her wise old abuela, her first attempt at dulce de leche frosting looks like scaly cocodrilo skin. She must learn it's okay to try again or she won't be good at anything. Peppered with Spanish vocabulary and set in an intergenerational Latinx home, Bella's Recipe for Success will show all kids the value of practicing to learn a new skill, and that it's okay to make mistakes along the way.
Download the free Bella's Recipe for Success polvorones con dulce de leche recipe and Spanish flashcards for kids to continue learning with Bella!
Age range: 5–8 years
Click here to view all books from Beaming Books.
Searching for more free activities for kids? Check out all our available downloads.
Searching for more recommended reading lists? We've got you covered! Click here to view our blog.