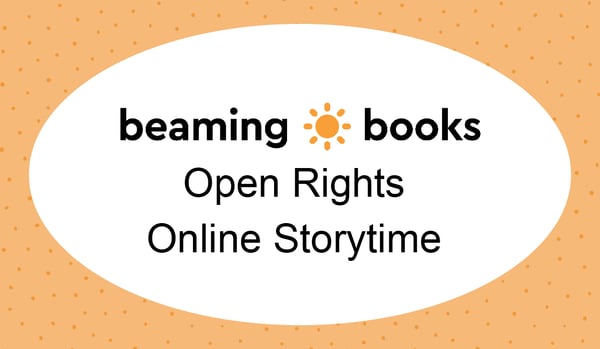 We know that literature, art, music, and activities help create conversation, lift spirits, and bring people together from all over the world. During this unprecedented time, while children and parents are at home, churches are closing their physical gathering spaces, and we're all practicing social distancing, connection and community are more important than ever.
We have been moved by the numerous requests we've received from those who are trying to provide opportunities for kids to learn and connect through our books. We want to support you in your efforts, so for the time being, we are permitting our books to be used in virtual storytime, read-aloud videos, and live events. Our open rights will be in effect until June 30, 2022.
We ask that you mention that you are reading with permission from Beaming Books.
We'd love to see how you use our books to connect with others. Please tag our social media accounts in any posts affiliated with your readings—we'd love to see them!
Facebook: @BeamingBooksPublishing
Twitter: @BeamingBooksMN
Instagram: @BeamingBooks
Please note that these open rights are for video purposes only. Beaming Books does not permit books to be scanned and shared via PDF.
Thank you for all you are doing to help your families, students, and congregations during this difficult time. Please let us know if we can support you in any way.
From all of us here at Beaming Books, we wish you health and peace.
Please contact copyright@1517.media if you have any questions.