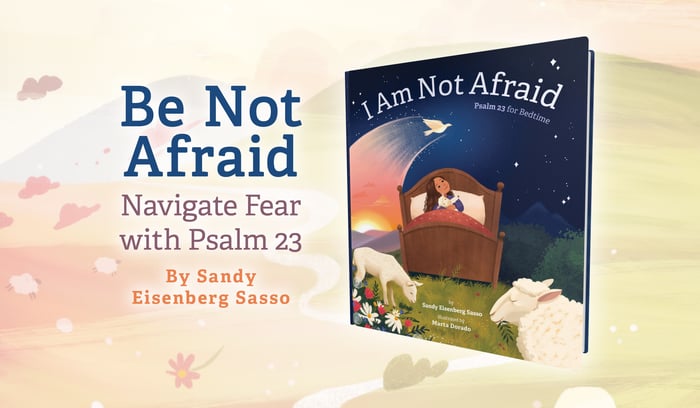 Psalm 23 (New Revised Standard Version)
The Lord is my shepherd, I shall not want.
He makes me lie down in green pastures;
he leads me beside the still waters;
He leads me in right paths
Even though I walk through the
You prepare a table before me
in the presence of my enemies;
you anoint my head with oil;
Surely goodness and mercy
and I shall dwell in the house of
About Psalm 23
If we know how to recite any psalm by heart, it is probably Psalm 23. It is often spoken during hard times, especially at funerals. But the psalm is not really about death; it is about the assurance that we are not alone when we face our fears. It doesn't say that there will never be difficult times, but that we can find our way through them.
The words used in many biblical translations, "the valley of the shadow of death," are more accurately translated "the place of deep darkness." In other words, the psalm refers to all the places and situations where we feel ourselves in danger. In place of fear, the psalmist offers trust. Amid shadows, the psalmist supplies images of green pastures and still waters. Confronted by threatening forces, the psalmist imagines God as Shepherd, who accompanies and watches over us. From the pleasant valley to the lavish table, the psalm assures us that we are never alone.
The author of this psalm lived at a time very different than ours. He knew what it meant to be a shepherd, to care for sheep who needed to be both guided by a rod and protected with a staff. A valley was an uncertain place. It could provide grass for grazing or the threat of an unexpected enemy. Kings and priests were anointed with oil as a sign of blessing.
These images are less familiar to our generation. When reading this psalm, ask yourself what words make the most sense to you. How would you name God, the Presence that guides and sustains you in scary times? Might your name for God be Friend or Mother or Father? What is your "valley of shadows"? Is it being uncertain or alone or in the dark? What makes you feel special, blessed? Is it a warm embrace or a hand on your shoulder? What does it mean for your cup to be overflowing, to be filled with gratitude? Thinking about these questions is a way to let the psalm make music in your soul.
How Can We Get through Scary Times?
We are all afraid sometimes—even adults. It is a normal feeling. When you are frightened, it helps to talk about it, to find someone who will listen. Holding someone's hand can help. Sometimes something familiar, like a favorite blanket or stuffed animal, will make us feel safe. Take a deep breath, listen to music, close your eyes, and imagine yourself in a beautiful place.
Psalm 23 talks about getting through scary times. Long ago someone who was afraid wrote those beautiful words, and many people have repeated them when they were afraid or uncertain.
Saying what makes you scared and what gives you courage is a form of prayer. Maybe saying these words from long ago can help you stay calm, or you can use your own words to help you get through the difficult times.
To be brave doesn't mean that you are not afraid. Being brave is being strong enough to name what scares you and to face it with the help of others and with faith.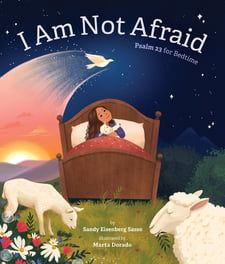 Click here to learn more about Sandy Eisenberg Sasso's I Am Not Afraid.