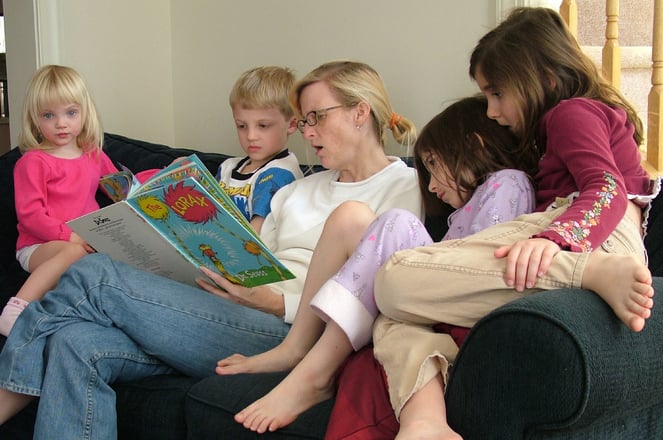 Every year, summer vacation brings with it the same question: "What are the kids supposed to do without school?"
While it may be tempting to let TV or outdoor free time fill the void of school, it's important to remember that variety is important for a growing mind and body. So here are some activities to add into your child's summer mix.
(Educational) Field Trips - Take some time to go somewhere educational with your kids and (most importantly) talk about that place. Go to a library or museum together and discuss afterwards what they saw/liked/found interesting. And don't be afraid to think outside of the box for field trip locations; when kids are young, anywhere can be new and educational! Fill out a postcard to a family member with them and mail it together at the post office. Go on a nature walk and pick out a couple things they see that you can find out the name of together. Learn about the stars by visiting a planetarium then study at the sky together that night. The most important thing is that your child's mind is engaged by having them think about the new things they see on these trips.
Mini Book Club - Book clubs are a great way to motivate people to read and absorb what they have learned. Put this same principle into effect with your children by picking out a few books to read together over the summer. This can be customized for any reading level. What's important is your child setting out with the goal in mind of reading pre-agreed upon books and then talking with you about what they thought of those books to stimulate their critical thinking. What did they like about the book? What didn't they like? Why? Read the books yourself so you can offer up some of your own opinions. This activity can not only help improve reading habits, but also help your child develop their own personal taste in reading material.
Learning to Cook - Many parents have trouble finding an activity to keep their children occupied while Mom/Dad are preparing food for them. Here's a solution that will nab you two birds with one stone: Make cooking the activity! Start simple, but work to actually engage your child in making the food. Whether it is grating cheese, cutting apples, or helping measure ingredients, having your child be hands on in the process is the name of the game. Not only will it keep them focused on what's going on ("I have to pay attention. I'm in charge of the cheese!"), it also teaches them cooking skills they'll be able to use for the rest of their lives. Make a big deal about it when they get better at a skill or even complete a whole meal by themselves (while supervised of course). Keep their brains working and their tummies full, and you have a winning recipe.
Set Up a Lemonade Stand - Lemonade stands are a fun, "grownup" activity that will help your child apply concrete modes of thinking. A lemonade stand can help children get a handle on planning, following a recipe, and the basics of money. As an added bonus, you will probably get to enjoy some delicious lemonade yourself. See this site's article on "How to Host a Fantastic Lemonade Stand" for greater detail on the subject.
The key to all of these suggested summer learning opportunities is to keep your child's mind working over the summer and for them to see that not all education has to happen in a classroom. By showing them that all sorts of moments are "teachable moments", your child will experience how rewarding it can be to be thoughtful and engaged with the world around them. A lifelong love of learning is an excellent quality to foster during Summer Vacation.
Photo Credit: Ned Horton
Originally Published 6/6/2017