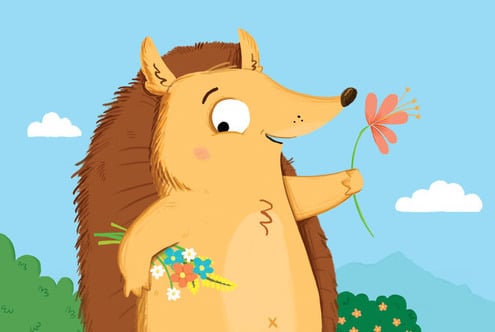 Two weeks ago, we introduced Frolic, a charming new series of books for families to read with their youngest children (Ages 0-5). We also sat down with Frolic art director, Tim Palin, who described the behind-the-scenes processes that go into creating an illustrated series.
This week, we're going back to the Sparkhouse Family offices to talk to Andrew DeYoung, Director of Product Development at Sparkhouse Family. Andrew helps us rewind back to the earliest days of Frolic's conception, before the illustrations were being drawn or copy was being written, and hear how a team comes together to bring a children's brand from idea to shelf.
Q: Where did the idea/inspiration for Frolic come from?
Andrew: The initial idea for Frolic came from a felt need we were hearing about from our customers: parents of babies, toddlers, and preschoolers are overwhelmed with the tasks of parenthood, and integrating Christian faith formation into that picture is even more difficult. From there, we began looking at all the early childhood brands out there—from Baby Einstein to Daniel Tiger's Neighborhood or Sophie the Giraffe—and asked ourselves: What if there was a family of early childhood products that treated faith development as an important component of early childhood development? And what if those products were founded in a deep understanding of early childhood psychology, so that we and our customers could begin teaching the youngest members of our families about God, ourselves, and the world around us? Out of these questions, Frolic was born!
Q: What need do these books meet for parents and kids?
Andrew: The experience of reading a book with a child is so powerful, for both parent and child! Coming together to share a story, to look and laugh at delightful illustrations, to think and wonder together about big ideas, is among the most transformative experiences a parent can share with their child. Life is busy, but the time I spend reading with my own young daughter are often the most precious moments of every day. Adding faith development into that mix, we hope, will result in an experience that is fun for kids, and that parents can feel great about!
We're delivering on that need in three ways with these books. Firstly, there's the Frolic First Bible, a board book story Bible that tells 20 stories—from Creation to Jesus' death and resurrection—in a way that's easy for kids this age to grasp. Each story comes with a very simple takeaway that helps children see God's love and care in the narrative, and apply it to their own lives.
Our Frolic board books for very young children, ages 0-3, take basic early childhood development concepts and combine them with basic faith concepts so that children begin to learn about the Christian faith as they learn about themselves and the world around them. One example is the book God Made Us All (out now!) that teaches children about the difference between big and little, while at the same time teaching them that God made us all, whether we're big or small.
Then there are our Frolic picture books for slightly older kids, ages 3-5. These books tell stories of animal characters (the Frolic Friends, I call them) encountering situations that will be familiar to toddlers or parents of toddlers: sharing, patience, anger, and meeting new friends. In each book, the characters learn that God can help them with these behaviors through the power of prayer. Kids who read the books with their parents will learn how to live in a Christ-like way at home, at daycare, and at church, and they'll begin to understand the potential power of prayer in their everyday lives.
Q: Tell us about the series. What themes tie the Frolic books together?
Andrew: The main thing that ties all the Frolic books together is our firm belief, coming through in the books, that early childhood is inherently spiritual. Babies, toddlers, and preschoolers are learning about life's most basic questions: Who am I? What is my relationship to other people, and the world around me? These are spiritual questions! And the Christian faith has answers. As young children discover who they are, through these books we'd like them to discover that they are children of God.
The other thing that ties the Frolic books together are the delightful animal characters, who live and have their adventures near a village in the time of Jesus. From board books to picture books, kids will fall in love with Ava the sheep, Jo the goat, Hal the hedgehog, Rufus the bulldog, and Uri the dove. The human Bible characters are illustrated in a similar style for the Frolic First Bible, so that kids who like the animals will recognize the illustrations in the story Bible, too.
Q: Who is the illustrator? Can you share a few fun facts and maybe a website about him/her?
Andrew: Our illustrator is Natasha Rimmington, whose illustration style I've described to my colleagues at Sparkhouse Family as "off-the-charts cute." Because there are so many books, another illustrator named Michael Garton helped her with the workload and provided illustrations in the same style. One interesting thing about Natasha and Michael is that they both live in the United Kingdom. Sparkhouse Family is located in Minneapolis, so working with Natasha and Michael meant sending them our notes during our workday, usually while they were asleep, and getting their illustrations in the middle of the night when we were asleep and they were awake…and so on. Working with creative talent in other countries is complicated—but we loved Natasha and Michael's work so much that it was worth it!
Q: What developmental insights have been considered when creating these to work with children at this life stage?
Andrew: My colleague Dr. Dawn Rundman is an expert in early childhood psychology, and her expertise was invaluable in this process. As we were creating these books, we considered what children this age are going through cognitively, socially, and physically, in order to get inside the minds of kids and imagine what might be most compelling for them. It was hard work, but I think it resulted in books that kids are going to love! In fact, I know it did—I'm the dad of a little girl under the age of 1, and I've already been reading these books at home with her. She loves them! Seeing my daughter's eyes light up when I read her a Frolic book is, without a doubt, the most gratifying part of this whole process for me.
Q: Will there be other Frolic related products? Videos etc?
Andrew: Yes! We are currently developing more books. And a video series is something we're very interested in. Stay tuned!
Originally Published 6/1/2016