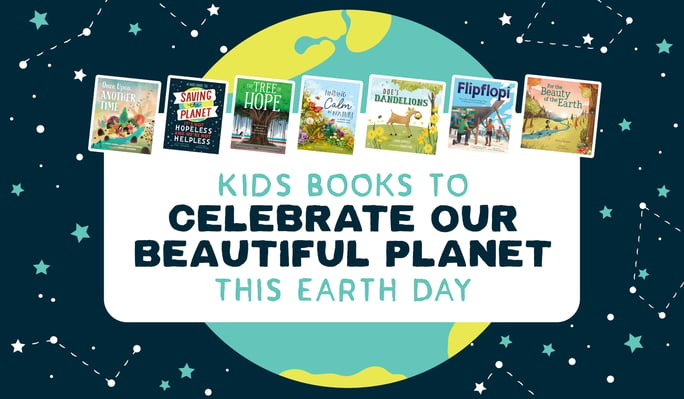 We live on a beautiful planet, and Earth Day is the perfect time to help kids foster an appreciation for the natural world. From learning about climate change and plastic pollution to reading about the impact of nature on our mental health, picture books can help teach kids about the wonders of the earth and the importance of protecting it. Below are books to inspire the next generation to seek beauty in the world around them and work toward a more sustainable future.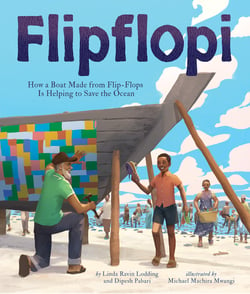 Linda Ravin Lodding and Dipesh Pabari
Juma is excited to go fishing with his grandfather, Babu Ali. But when they get to the beach, they find the sand covered in plastic pollution. One of the flip-flops floating in on a wave looks like a boat. That gives Juma and Babu Ali an idea. Based on the true story of the Kenyan dhow boat Flipflopi, this inspirational tale demonstrates how innovation, art, and determination can transform plastic pollution into something useful.
Download the free Flipflopi Educator's Guide to help kids learn more about sustainability and how they can be part of the plastic pollution solution.
Age range: 3–8 years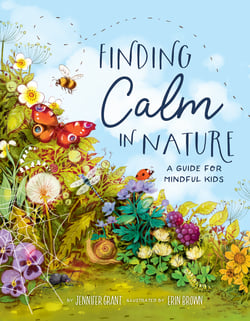 Finding Calm in Nature: A Guide for Mindful Kids
One way to feel better when we are hurting is to spend time outside. Being in nature is good for both our bodies and our minds. Finding Calm in Nature is filled with mindfulness practices such as breathing exercises, stretching, and keeping a nature notebook to equip kids with the skills necessary to navigate their feelings as they spend time outdoors. Author Jennifer Grant's affirming, kind voice will inspire kids to see the world with fresh eyes—and discover the calm, joy, and wonder waiting just outside their door.
Age range: 9–13 years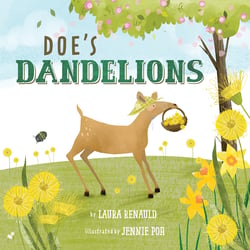 Every year, Doe grows daffodils for the Spring Petal Parade, but despite all her diligent weeding, dandelions have taken over her garden! She travels to warn her friends, but to Doe's surprise, Porcupine eats dandelion leaves, Squirrel thinks the blooms make a beautiful bouquet, and Bear cultivates a wishing garden. Perhaps dandelions are much more than weeds after all? The lovable gang from the Woodland Friends series returns in Doe's Dandelions to celebrate spring and teach Doe that all things—even dandelions—have worth.
Age range: 3–8 years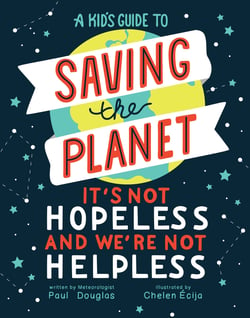 A Kid's Guide to Saving the Planet: It's Not Hopeless and We're Not Helpless
The Earth is warming. The climate is changing. Sea levels are on the rise, and plastic is showing up . . . everywhere. We have every reason to be concerned about our planet, our only home. What can you do to help? Plenty! Despite what you may hear on the news, the situation isn't hopeless, and we aren't helpless. In this inspiring, informative book, nationally recognized meteorologist Paul Douglas clearly and thoughtfully presents the daunting problems of climate change. And he offers realistic solutions (including some that are already working!) and actions that kids can participate in now. It's imperative that we all step up and become part of the solution, by engaging in new, smarter ways of living.
Age range: 9–13 years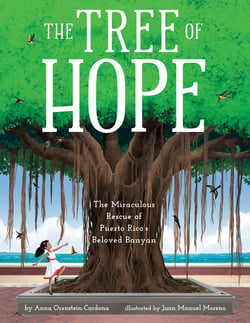 The Tree of Hope: The Miraculous Rescue of Puerto Rico's Beloved Banyan
On the tropical island of Puerto Rico in the city of Old San Juan, there was an ancient banyan tree. This beloved tree stood on the shore of the island for over a hundred years—until the fateful time when the biggest hurricane in Puerto Rico's history slammed into the island, devastating communities and uprooting that very tree. The Tree of Hope tells the story of the majestic jagüey blanco. Puerto Rican author Anna Orenstein-Cardona weaves an epic tale based on the true story of this bearded watchdog of the island, how the tree was impacted by Hurricane Maria, and how a group of people rallied together to save it.
Download the free Tree of Hope Educator's Guide for kids to continue learning about hurricanes and Puerto Rico's beloved banyan.
Age range: 5–8 years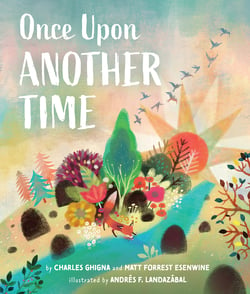 Charles Ghigna and Matt Forrest Esenwine
With sweeping landscapes and up-close details of the natural world, Once Upon Another Time takes readers through a lyrical exploration of the world as it was before humans made their mark. Contrasting the past with the present, this expansive picture book serves as a warm invitation for children—and all people—to appreciate, explore, and protect the magic and wonder of this planet we call home.
Age range: 3–8 years
The lyrics of "For the Beauty of the Earth," originally written in 1864, celebrate creation, family, music, and community. This soothing picture book, now in paperback, combines the poetry of this classic hymn with beautiful, rich illustrations to tell a story that children and adults alike will cherish. The written music and lyrics can be found at the back of the book so families can sing the song together.
Age range: 3–8 years
Click here to view all books from Beaming Books.
Searching for Earth Day reads for adults? Click here to explore recommendations from our sister imprint, Broadleaf Books.