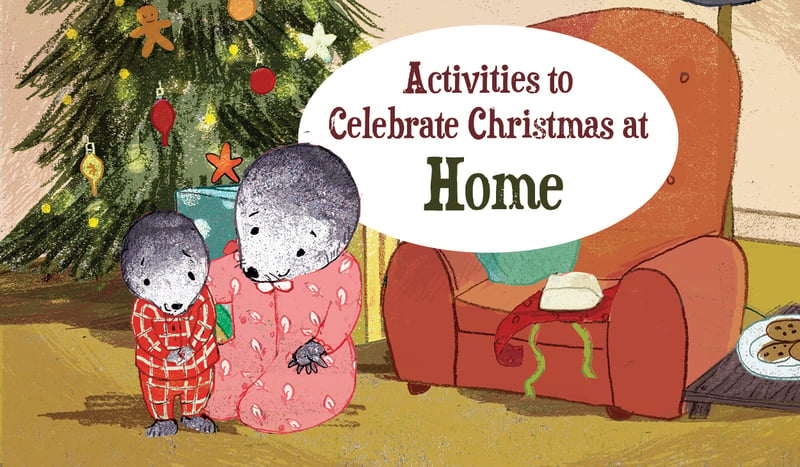 The countdown to Christmas Day can sometimes feel like a race to the finish line. But this year, maybe you'll have a little more time to celebrate the holidays at home with your kids. Whether you're looking to create new family traditions this year or are just looking for a way to keep your kids entertained, here are some of our favorite at-home holiday activities.
Bake sweet treats. The task of baking Christmas goodies is fun from start to finish, plus you'll have a sweet treat at the end. Use the internet or a cookbook to find a fun and tasty age-appropriate recipe for kids. Older kids can learn how to measure ingredients, and younger kids can practice cutting out cookies from dough. And everyone likes to decorate! Plus, teaching kids how to bake when they are young might inspire a passion for cooking as they grow older.
Decorate a tree. Many people decorate Christmas trees for the holidays. One of the special things about Christmas trees is that each family's is different. If you have ornaments from your childhood, explain them to your kids. Put popcorn on string and wrap it around the tree (and eat the leftovers). Play your favorite holiday music and enjoy each other's company. Make it a fun little event where everyone lends a hand to help. And when you've finally hung the last ornament, sit down with some hot cocoa to enjoy your handwork together.
See the Christmas lights. Take advantage of the longer nights before Christmas to go out as a family and look at the beautiful Christmas lights. Find a neighborhood where everyone goes all out, or a public park or zoo that offers a safe holiday lights viewing experience. Go for a slow drive with Christmas music playing so your children can look at the winter wonderland right outside their windows.
Read a Christmas story. On Christmas Eve, have the whole family put on their pajamas, find all your cozy blankets, and gather together for a quiet Christmas story. There are many classic Christmas stories to choose from, and a number of new favorites like Little Mole's Christmas Gift, A Simple Christmas on the Farm, or The Animals Speak. No matter what you read, the most important thing is that you are all together for a quiet, peaceful story before bed.
Build a snowman. If you live in a part of the world that has snowfall at this time of year, encourage everyone in the family to pull on their snowpants and go outside to build a snowman. Not only is this a fun activity that will get your kids outside in the colder months, but everyone in the household can participate. Older kids and adults can help roll the snowballs that will eventually make your snowman's body and head, and younger children can help with the detail work of adding the arms and a face. Gather up some old clothes (hats, scarves, mittens, etc.) to personalize your snowman after it's complete.
These are just five easy activities that you can do as a family to make the Christmas experience special. And who knows—maybe something new you try this year will become a tradition for years to come. No matter how you celebrate, the team at Beaming Books wishes a safe and festive holiday season for you and your loved ones.