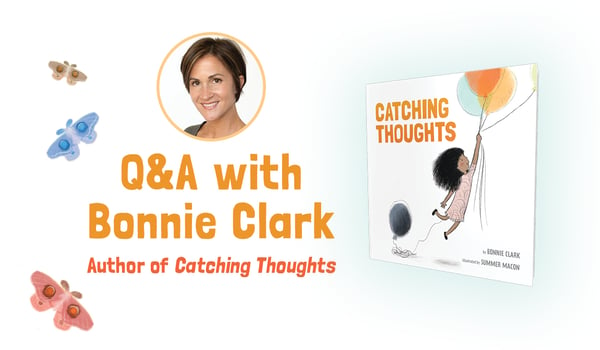 Bonnie Clark is the author of Catching Thoughts. To celebrate the release of Catching Thoughts on August 11, 2020, she shared with us the inspiration behind this encouraging book on mindfulness and mental health for kids.
Why is the message of Catching Thoughts important today?
Our world is hurting. The cultural climate of 2020 is one of uncertainty and fear. Mental health has always been important, but I feel that now, and in the coming months, we will see an increase in negative thinking patterns (depression, anxiety, OCD etc.) related to the environment and cultural climate. These thought patterns can lead to concerning mental health issues for our children and communities. And even with the grim realities that children and families are facing in America, I still believe that we can "take captive every thought" (2 Corinthians 10:5), examine it and actively pursue and choose a better way to think that will enable us to live healthy lives and experience joy and peace. I want to share this hope with little minds, so they learn that they have control over their thought life––no matter what they face in the world.
What was your inspiration for Catching Thoughts?
My inspiration has been my own personal struggle with anxiety. I have experienced anxiety and panic attacks since becoming an adult–I kept it at bay as best I could. A few years ago, my anxiety returned with debilitating panic attacks. I felt exposed, powerless and at the mercy of my genetics. During this time, I came across the book Switch on Your Brain by Dr. Caroline Leaf. The blurb on the back of the book stopped me in my tracks: You are not a victim of your biology. That went completely against what I had learned from my family (you have a predisposition toward anxiety) and the medical industry (you have a chemical imbalance). I couldn't get enough of the science and scripture (Philippians 4:8-9) behind neuroplasticity–the ability of the brain to change. From Dr. Leaf I learned about the power of the mind and the ability to take captive toxic thinking patterns and to replace them with helpful, healthy thoughts that can change your mental environment.
What was your reaction when you first saw the illustrations by Summer Macon?
Looking at Summer's illustrations for the first time, I was completely overwhelmed at how beautifully she captured the message of the book. It was absolutely perfect. She made the words and the message come alive through her illustrations. (A friend called it a "dance of words and pictures.") I went slowly through each spread soaking in every detail. (And yes, I cried happy tears.) The colors were vibrant and the use of white space helped to instill a sense of peace that is available to all of us no matter what we are facing. Summer did an incredible job and I am so proud of the finished product!
What was your writing process in crafting Catching Thoughts?
The pattern of the story follows the verse found in Philippians 4:8-9, which says, "Finally, brothers and sisters, whatever is true, whatever is noble, whatever is right, whatever is pure, whatever is lovely, whatever is admirable––if anything is excellent or praiseworthy––think about such things." I wanted the text to stay true to the verse but also to hold universal appeal so the editor and I worked with the wording until we felt good about it. In picture books, word choice is so crucial because of the scarcity of words. (Catching Thoughts is about 300 words.)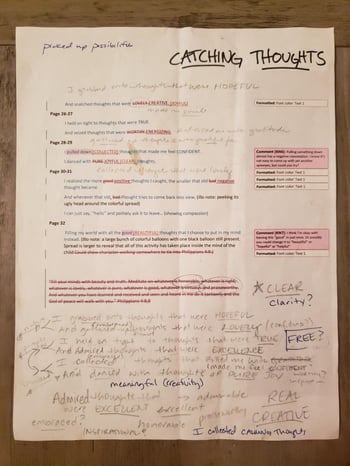 Picture of Catching Thoughts in the middle of editing.
Why a picture book?
Most mental health issues begin in childhood. I want to offer a conscientious road map to mental well-being and peace that starts in childhood.
When I noticed my children experiencing anxiety in various forms, like tummy aches, OCD, yucky feelings, I felt empowered to share with them the lesson I learned on my own journey: You are not powerless against anxiety, depression, OCD etc. You have the capacity to choose well, and to live in a conscientious and deliberate state of mental health. I had to learn these truths as an adult, and I am grateful that my children have learned these truths while they are still small. Mental health may stem from childhood, but it can be acknowledged with compassion and reversed at any age. I hope Catching Thoughts gives children and parents hope and encouragement during dark times. No matter how you feel, the light is always there.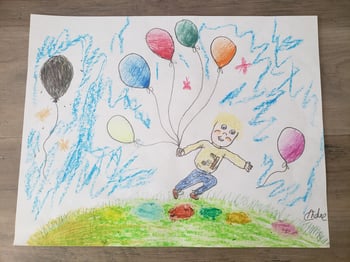 Picture of my son's illustration of Catching Thoughts (when the main character was a boy).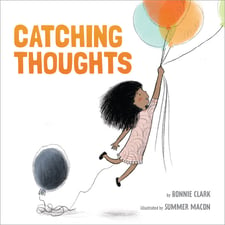 To learn more about Catching Thoughts, click here.