St. Patrick's Day Has Roots in the Faith!
If you're like most people, when you think about St. Patrick's Day, images of leprechauns, pots of gold, four-leaf clovers, and GREEN-EVERYTHING come to mind. But while the holiday has absorbed a lot of folk lore and customs over the years, you might be surprised to hear the day has religious origins as well.
St. Patrick himself wasn't originally St. Patrick at all. He was a regular boy named Maewvyn Succat who ended up with an extraordinary story. He was kidnapped and sold into slavery. But later, thankfully, he was able to flee from slavery to France. Instead of letting his tragic experiences make him bitter and resentful, he became a priest, and even went on to be second Bishop to Ireland! Over his lifespan, he spent 30 yrs founding schools, churches, and monasteries across the country. His story inspires people across the world, even now, to celebrates how this leader brought messages of faith to Ireland.
To commemorate this aspect of St.Patrick's day history, we at Sparkhouse Family have put together a free activity that encourages children to reflect on leaders who have inspired them and brought faith to their lives.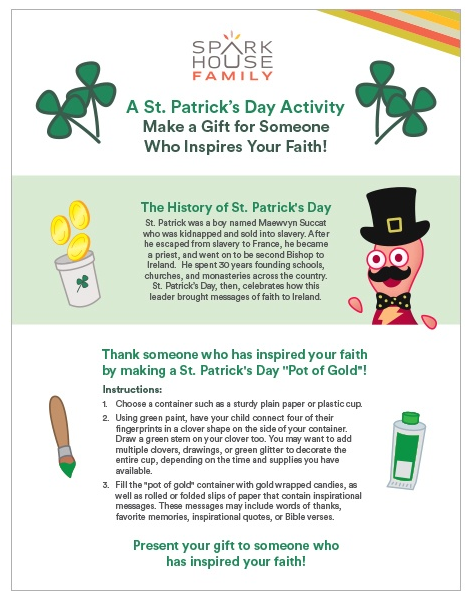 Download Activity
Originally Published 3/15/2017