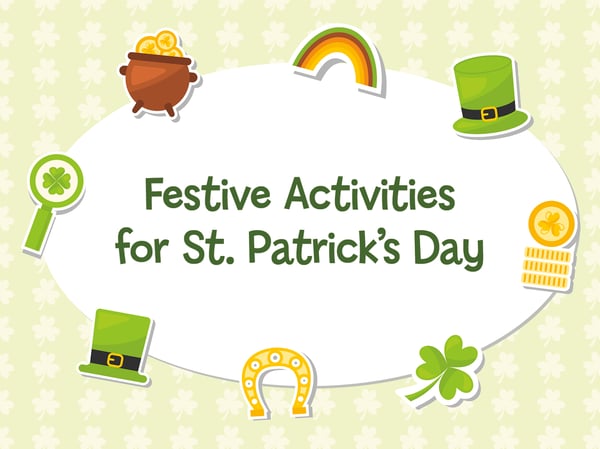 St. Patrick was a Christian missionary in Ireland. But you don't have to be Irish or know your history trivia to get into the St. Patrick's Day spirit right here in North America! There are plenty of kid-friendly ways to celebrate this holiday. Below are five of our favorites. All you'll need are some arts-and-crafts supplies and a dash of creativity to make your own luck of the Irish!
Tip: Lively Irish music makes any activity more exciting. Here's a fun YouTube instrumental to get you started!
Shamrock Popsicles
Make a festive and tasty treat for the holiday! Mix a few drops of green food coloring into lemonade to achieve the shade of "shamrock green" you prefer. Then pour it into an ice cube tray and place a toothpick or popsicle stick at an angle in each square. Place the tray in the freezer until completely frozen. Now you have a sweet treat that everyone will enjoy!
Potato Paints
A fun and thrifty way to make you own stamps is by using a potato. Draw a shamrock, pot of gold, or leprechaun hat on a piece of paper (or print outlines of these shapes from the internet) and cut them out. Cut a potato in half and place a paper shape on the inside of one half of the potato. Use a permanent marker to trace around the outside of your shape. Then, carefully carve the potato with a butter knife or the edge of a spoon using your marker lines as a guide. Voilà––now you have a potato stamp! Dip your potato in paint and let the fun begin.
DIY Leprechaun
Help your child make a homemade leprechaun friend! You will need construction paper, pipe cleaners, markers, and small cotton balls. Cut out a body and head for the leprechaun from construction paper, then attach the pipe cleaners to make arms and legs. Glue cotton balls onto the face to make a little white beard. Finally, use markers to add any other details, such as facial features. The pipe cleaners will let the leprechaun hang and hold on to different surfaces, making him fun to hide and find!
Shamrock Cookies
What could be better than sugar cookies with St. Patrick's Day flair? First, bake your favorite sugar cookie recipe. Next, cut out a shamrock stencil from thick paper. On each cookie, spread a thin layer of green or white frosting. Set your stencil on the cookie and shake sprinkles or decorative sugar over the top. Carefully remove the stencil. The frosting will hold the sprinkles in place, leaving you with a festive shamrock cookie!
Pot-of-Gold Hunt
Most people don't have a pot of gold, but that doesn't mean you can't make one! For this game, you will need foil-wrapped chocolate "coins" and a container (a plastic food-storage container or a shoe box works perfectly). Hide the coins around the home or yard while the kids cover their eyes. Once all are hidden, the hunt is on to see who can find the most coins and bring them back to your family's pot of gold. The game is over when all coins are found, divided, and eaten!
Remember as you enjoy these St. Patrick's Day activities that there are always little things that you can do to add to the excitement of the holiday. Listening to Irish music, hanging festive decorations, and wearing green clothing are all fun ways to make St. Patrick's Day a special celebration for the whole family.
Originally Published 3/17/2017