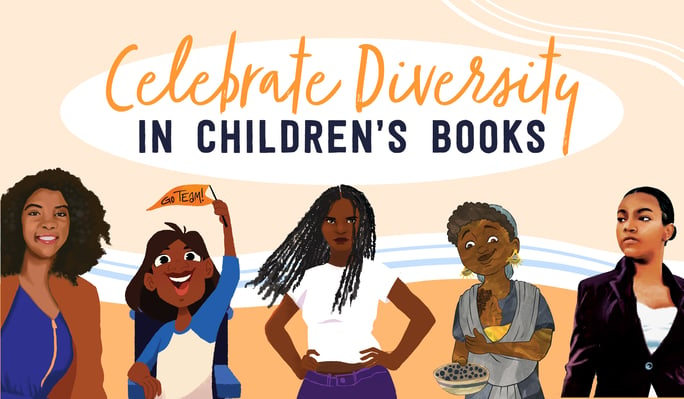 We are each called to lead change and fight for justice. This important work starts in our homes and immediate community. Picture books can be helpful tools for sparking conversations with kids about race and diversity. Below are books that celebrate diversity and recognize the things that make us unique and special.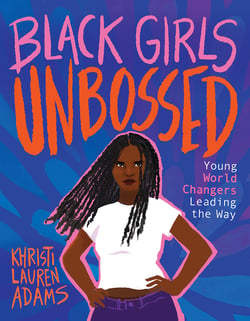 Black Girls Unbossed: Young World Changers Leading the Way
Black girls are shaping the future.
Young Black leaders have always been at the forefront of the fight for justice, freedom, and equity. And Black girls today are stepping up and leading in bold, creative ways. From Khristi Lauren Adams, author of the celebrated Parable of the Brown Girl, comes Black Girls Unbossed, which introduces readers to young Black women leading the way and changing the world.
Eight young Black women are profiled, including the founder of a child literacy nonprofit, political activists, and a school shooting survivor who launched a political action committee to prevent gun violence. These are the young Black women we will be reading about and studying decades from now. Like the young women who came before them, Black girls today are saying "enough is enough" and building a better world.
Age range: 8–12 years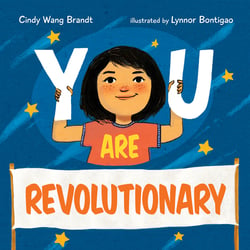 You have what it takes to change the world! In You Are Revolutionary, Cindy Wang Brandt speaks to every child who sees injustice in the world, revealing that they already have inside themselves everything they need to make big, transformative change in the world—just as they are. Every kid is a revolutionary! You don't need to wait until you grow up. You don't even need any special skills. All kids have what it takes to make a difference.
Lynnor Bontigao's vibrant illustrations feature a diverse group of children taking up a call to action and using their individual gifts to change the world.
Age range: 5–8 years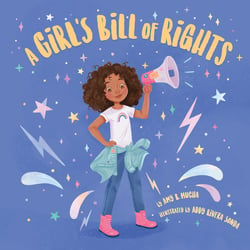 In a world where little girls must learn to stand tall, A Girl's Bill of Rights boldly declares the rights of every woman and girl: power, confidence, freedom, and consent. Author Amy B. Mucha and illustrator Addy Rivera Sonda present a diverse cast of characters standing up for themselves and proudly celebrating the joy and power of being a girl.
Age range: 3–8 years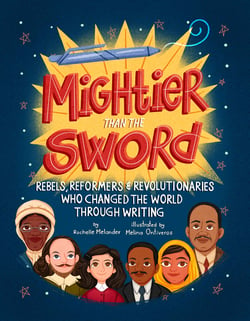 Mightier Than the Sword: Rebels, Reformers, and Revolutionaries Who Changed the World Through Writing
Throughout history, people have picked up their pens and wielded their words—transforming their lives, their communities, and beyond. Representing a diverse range of backgrounds and experiences, Mightier Than the Sword connects over forty inspiring biographies with life-changing writing activities and tips, showing readers just how much their own words can make a difference. Readers will explore nature with Rachel Carson, experience the beginning of the Reformation with Martin Luther, champion women's rights with Sojourner Truth, and many more. These richly illustrated stories of inspiring speechmakers, scientists, explorers, authors, poets, activists, and even other kids and young adults will encourage young people to embrace the transformative power of words to bring good to the world.
Age range: 9–13 years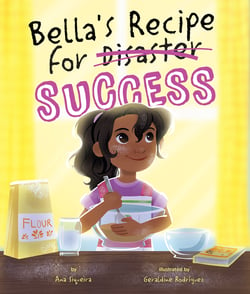 Bella wants to find out what she's good at. But she quits everything she (barely) tries because she's a disaster at it. When she decides to learn how to bake with her wise old abuela, her first attempt at dulce de leche frosting looks like scaly cocodrilo skin. She must learn it's okay to try again or she won't be good at anything. Peppered with Spanish vocabulary and set in an intergenerational Latinx home, Bella's Recipe for Success will show all kids the value of practicing to learn a new skill, and that it's okay to make mistakes along the way.
Download the free Bella's Recipe for Success dulce de leche recipe and Spanish flashcards for kids to continue learning with Bella!
Age range: 5–8 years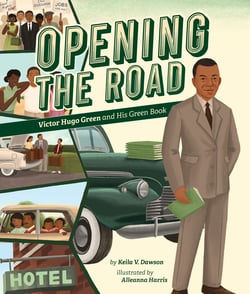 Opening the Road: Victor Hugo Green and His Green Book
In the late 1930s when segregation was legal and Black Americans couldn't visit every establishment or travel everywhere they wanted to safely, a New Yorker named Victor Hugo Green decided to do something about it. Green wrote and published a guide that listed places where his fellow Black Americans could be safe in New York City. Soon customers started asking Green to make a guide to help them travel and vacation safely across the nation too. With the help of his mail carrier co-workers and the African American business community, Green's guide allowed millions of African Americans to travel safely and enjoy traveling across the nation.
Download the free Opening the Road Educator's Guide for kids to continue learning about Victor Hugo Green and his Green Book!
Age range: 3–8 years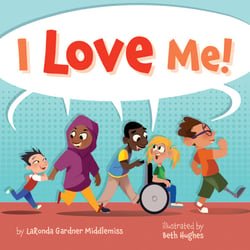 LaRonda Gardner Middlemiss
"I was teaching my son to say and sign (using American Sign Language [ASL]) I love you, but instead he would say I love me. Those words stayed with me. And I began to think about how important it is to teach kids to love themselves, as they are, before society and outside influences start telling them they aren't good enough." – LaRonda Gardner Middlemiss on the inspiration behind I Love Me!
I Love Me! is a celebration of all body types, ethnicities, abilities and disabilities, and physical features, and it teaches all kids they have many, many reasons to love themselves.
Age range: 3–5 years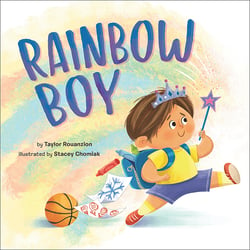 A little boy attempts to answer one of grown-ups' all-time favorite questions: "What's your favorite color?" But with so many wonderful colors to choose from, he doesn't know how to answer. He loves his pink sparkly tutu, bright red roses, soft yellow baby doll pajamas, and big, orange basketball. How will he ever pick? Rainbow Boy is a story about a boy with a heart too big for one color alone.
Age range: 3–8 years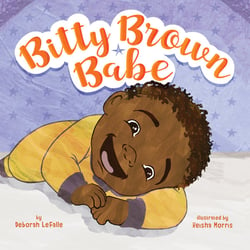 Deborah LeFalle
When a new baby enters the family, it is cause for great celebration. Bitty Brown Babe compares a baby's precious features to items in nature—a nose as soft as a rose, cheeks as chubby as chickadees, and hair as curly as sheep's wool.
Age range: 1–3 years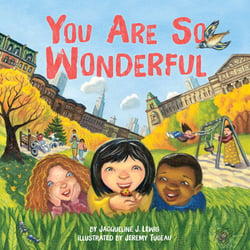 From your nose to your toes and your chin to your grin, God made you special, wonderful, and perfectly you. You Are So Wonderful features a diverse cast of kids enjoying life in New York City's Central Park, and it celebrates and affirms that every child is unique and deeply loved by God.
Age range: 3–5 years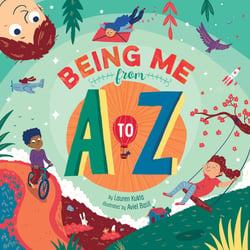 How can we teach our kids to live adventurously, bravely, and compassionately? Being Me from A to Z uses the 26 letters of the alphabet to inspire kids to love themselves, be kind to others, and care for the world around them. It's as easy as ABC!
Age range: 3–5 years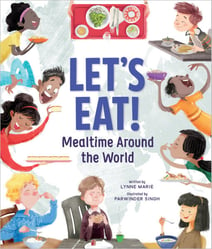 One way to celebrate our differences is to learn about the cultures and traditions of people all over the world. Let's Eat! introduces kids to cultures and food from 13 countries, including Nigeria, Peru, Pakistan, and more. It's the perfect way to travel without leaving the comfort of home! Our companion recipe sheet has three kid-friendly recipes to help kids learn to cook three different foods featured in the book.
Age range: 3–8 years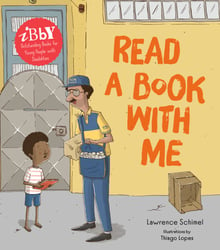 Antonio wants someone to read with him, but nobody seems to have any time—not his mom, not their neighbor, and not any of his friends on the street. It's only when he looks in an unexpected place that he discovers the perfect reading partner, and a chance to make a new friend. Read a Book with Me is a celebration of the power of stories and communities.
Age range: 3–8 years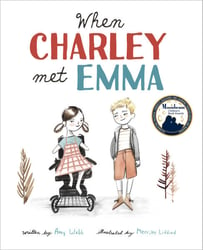 When Charley goes to the playground and sees Emma, a girl with limb differences who gets around in a wheelchair, he doesn't know how to react at first. But after he and Emma start talking, he learns that different isn't bad, sad, or strange—different is just different, and different is great! When Charley Met Emma will help kids think about disability, kindness, and how to behave when they meet someone who is different from them.
Age range: 3–8 years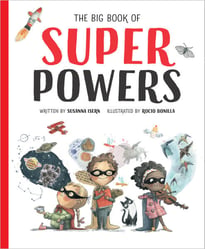 Superheroes have superpowers, abilities like strength or invisibility or flight. But did you know that ordinary kids have superpowers too? From dancing to reading to persistence and optimism, The Big Book of Superpowers will inspire all kids to look inside and celebrate their own special ability that enables them to make a difference in the world.
Age range: 5–8 years