(Article contributed by Jessica Cribbs. Read more about our writers here.)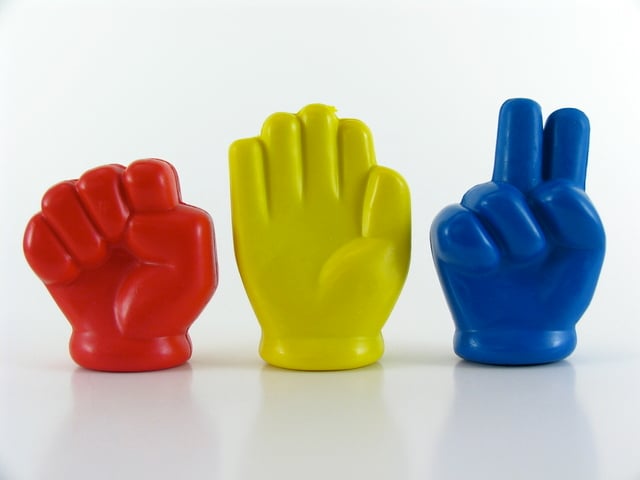 Several months ago, while driving my wee ones to school, I heard Shelby and Hayden in the backseat playing Rock, Paper, Scissors. I've heard everything thrown into that game. My son likes to use laser, and point his finger straight like a sword. I'm not sure what laser conquers, but it seems to work for them. I've heard them also use "bomb." I'm assuming a bomb would defeat all of the other three, hands down. Unless of course, the paper had instructions on how to defuse a bomb.
I never ask, because it's hilarious watching them make up their own rules to the game. But, recently, a tool was thrown in that made me laugh out loud.
Jesus.
I had suddenly heard.. "Rock, Paper, Scissors....JESUS!" Shelby laughed as she had made the sign of Jesus by placing her arms straight out, good ol' crucifixion style.
I didn't just laugh, I think I nearly wet myself. I listened and watched as my children then refused to use any other tool. Both of them were shouting...
"Rock, Paper, Scissors, Jesus! Rock, Paper, Scissors, Jesus! Rock, Paper, Scissors, Jesus!"
"Hey Guys," I said, "One of you is going to have to use something other than Jesus if you want to continue playing the game."
"But Mom, Jesus will always win. If I use anything else, I'll lose." Shelby said, still laughing while playing the game.
I let them continue without interruption because the reality of what she just said is something I could never make her stop understanding.
I can do all things through Christ, who strengthens me. - Philippians 4:13
Those who hope in the Lord will renew their strength. They will soar on wings like eagles, they will run and not grow weary, they will walk and not be faint." - Isaiah 40:31
God is our refuge and strength, an ever-present help in trouble -Psalm 46:1
In a simple game in the back of the van, my children were shouting to each other how mighty and strong God is.
Nothing trumps Jesus.
Photo Credit: Jeff Prieb
Originally Published 2/5/2016