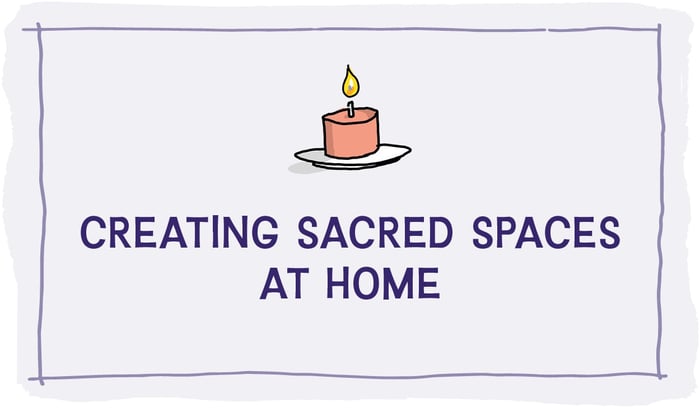 Faith at home is a journey. It's not something we finally get right, or even finish.
—Wendy Claire Barrie
We can pray anytime and anywhere. Simple prayers can be prayed around the dinner table, at the bedside, in the car, or anywhere else the family chooses. That said, sometimes it's nice to dedicate a special space for prayer.
How to Create a Sacred Space at Home
The sacred space need not be large, but simply an area set apart as a sacred or holy place to pray. Families might choose to create a sacred prayer space where shoes are removed, voices are lowered, and cell phones are left behind.
Here are some ideas as you create your own:
Convert a closet into a prayer closet by removing the door, replacing it with a curtain, and adding a special rug and soft twinkle lights.
Dedicate an unused corner of an extra room or basement to prayer. Hang up posters or photos that generate a sense of calm and quiet, and include soft seating for all to sit and pray.
Instead of dedicating a physical space, consider identifying a special blanket or quilt as the prayer blanket. Drape the prayer blanket over everyone's lap when it's prayer time.
Dedicate a small table as sacred space. Written prayers can be placed on the table along with candles (electric, battery, or wax). The space can change with the season.
There are no hard and fast rules when it comes to creating a sacred space for your family. Have fun! Follow your intuition. Do what works for your family.
Consider Traditions, Ceremonies, and Spiritual Practices
Traditions: Most families have traditions of some sort, whether it's a favorite recipe made for a holiday or a vacation destination every summer. Creating spiritual traditions together is a great way to solidify faith with your family. Traditions need not be complicated to be meaningful. Something as simple as lighting a candle each week during the four weeks of Advent can have profound impact. I've taken to including plants and seeds in my children's Easter baskets as a reminder that Easter is a season of new growth and new life. Think about the spiritual values you'd like your children to grow up with and invent a tradition that conveys those values.
Ceremonies: Ceremonies or rites of passage are another way to bring faith home. Think about those special moments in life that merit special recognition. (Many of them can be found in the "Milestones" chapter of this book.) In addition to saying the words of the prayers provided, what if you took it a step further and created a little ceremony around the prayer? Give a little token or take a photograph. Invite family or friends to be present.
Spiritual Practices: Prayer is a spiritual practice, and this book gives you a head start at creating a lovely prayer practice with your family. There are dozens of other spiritual practices you can also adapt into your family routine, from acts of service and meditation to journaling and Bible story reading. Any spiritual practice meant for individuals and adults can be adapted to families. Adopt a spirit of experimentation and play when it comes to trying different spiritual practices together. Some will feel more natural than others.
Above all, parents looking to deepen their family's faith at home do well to remember one thing: any effort to create a strong faith foundation at home will almost certainly face challenges. We are not perfect, and some seasons in life are easier than others to keep a steady focus on faith. Be encouraged that small efforts add up to big impact over time.
Incorporate Mindfulness into Your Family Life
Mindfulness is a popular buzzword these days, but do we really know what it means or how to practice it? Simply put, mindfulness is staying with the present moment. One can be mindful while preparing dinner, getting dressed in the morning, drinking a cup of hot cocoa, or doing any other daily activity. If practiced regularly, mindfulness becomes a way of living that reduces stress and adds enjoyment to everyday life. I encourage families to practice mindfulness as a spiritual discipline because in so doing, they'll find deeper meaning and peace each day. Practice mindfulness individually and as a family. Here are some easy ways to start a mindfulness practice with your children:
Focus on senses. What can you see, hear, taste, smell, and touch at this moment? Do it in the car, during dinner, on a walk, while waiting in line somewhere, or so on.
Be precise and detailed. How exactly does that hot chocolate taste? What temperature is it? What color is it, exactly? Children can be especially creative in their descriptions.
Examine feelings without judging them. One of the keys to mindfulness is to observe without attachment or judgment. When our children tell us they are sad or tired, bored or angry, we as parents often leap into a corrective "fix it" mode, first asking "why?" and then jumping into solution finding. This is a natural impulse, but there's also great value in teaching children that all feelings are welcome and that they can share what's on their mind without having to explain if they don't want to.
End your mindfulness time with a short prayer:
"God, thank you for the opportunity to observe the world around us. Amen."
Closing Words on Praying with Children
I heard a story once about a little boy who was going in for heart surgery and pleaded with his mother before surgery, "Please, Mom, no! I can't have surgery on my heart. Jesus lives in there!" I don't know if that story is true or just a poignant illustration told to prove a point, but either way, the message is important to me as a Christian educator.
Children and adults go through developmental stages with regard to faith, similar to the way children and adults go through predictable physical and psychological stages as we grow and change. As you journey alongside your child and watch for new developmental stages such as walking, talking, going to school, and so forth, keep an eye on your child's faith development as well. Notice how your child's faith deepens, grows, and changes. You'll see subtle changes. Just as children's physical and emotional growth proceeds at different rates, so, too, does faith development differ for each child.
God is love. God is good. We have much to be thankful for. God hears us all the time. Be encouraged on the journey and be blessed.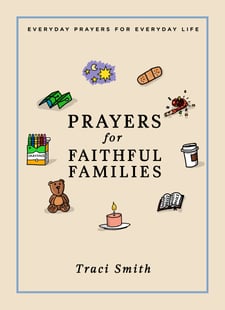 Click here to learn more about Prayers for Faithful Families.