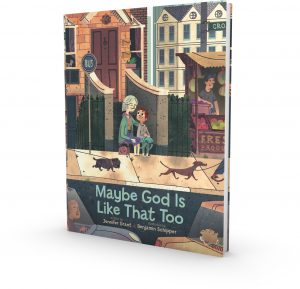 Sometimes God's presence is a difficult concept for children to grasp. They can't see God the way they can see a friend or interact with God in concrete, tangible ways like they do their parents.
In Maybe God Is Like That Too (available today!), a young boy wonders where to find God in the city. His grandma reminds him that he really just needs to know where to look. As he goes through his day, he notices the kindness of a doorman, the generosity of a neighbor, the patience of his teacher, the faithfulness of his grandma, and realizes that he saw God over and over again that day. Whenever he saw love, joy, peace, patience, kindness, goodness, faithfulness, gentleness, and self-control, he was seeing God's Spirit at work. An ordinary day in his city opens his eyes to God's presence all around him.
Written by Jennifer Grant and illustrated by Benjamin Schipper, this moving story points young readers to a God who is always at work and who loves them deeply.
Download a free activity sheet that invites kids to pay attention (just like the boy in the book!) to all the ways that God's Spirit is around them during their ordinary, everyday lives.
To learn more about the book, click here.
Originally Published 2/21/2017